Plot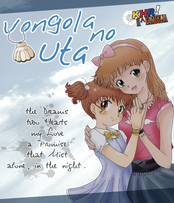 Vongola no Uta is a short series that features
Arina Luccini
when she was 14 and the little
Nozomi Sawada
. In this story appear
Claudio
, Nozomi's best friend,
Vongola Decimo
and his guardians.
A young Arina now knows that Decimo discovered who is the murderess of her parents.
Her small student, Nozomi, learns the horrible truth about the past of her friend and decides, along with her two friends Claudio and Fabio, to find out about this mysterious Lhumor Corporation and avenge Arina's parents.
Info
The story has 15 main chapters.
Characters in this Arc