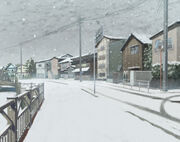 Swizzles
is a Canadian town located in the Alberta region, on the border with the Northwest Territories, at north of Bistcho Lake. The town has a population of about 300 inhabitants and it is located about 25 km from the lake and 80 km from Steen River's town.
People and places
In this town there's the home of a well-known blacksmith who worked for Neveria, Mr. Richard.
Richard's son, Paul, was an old friend with the seventh Neveria boss, Aurora. His son got married and went to live in Germany with his wife, so Richard now lives alone in his house.
In Swizzles there's Oliver Stanford secret laboratory, where he carried Clover's experiments and where he kept Trevis, Nozomi and Caesar as prisoners. The entrance of the lab is situated under a kiosk in a manhole. The lab was half destroyed by Cristal and the eleventh Vongola and Simon's family during the events of Clover Arc.