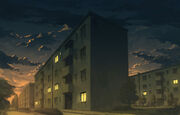 Mirjad is the Turkish town controlled by the military
Raif
, who took possession of it and enslaved the poor.
Those who opposed the dictatorship of Raif formed an organization of rebels, who captured the passengers of a plane landed in a state of emergency, trying to ask to the state for the city's liberation.
At the end of the events, the city will be controlled by
Gazi
.
Click here for a list of people who live here.