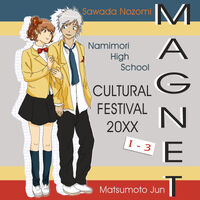 Info
Special song from the CD Magnet - Namimori High School Cultural Festival (Class I - 3), featuring Revie as Sawada Nozomi and skynord as Matsumoto Jun. The original song is by VOCALOID Hatsune Miku and Megurine Luka.
Lyrics
Kabosoi higa kokoro no hashini tomoru
Itsuno manika moehirogaru netsujou
Watashino chou fukisokuni tobimawari
Anatano teni rinpun wo tsuketa
[Karamiau yubi hodoite kuchibiru kara shitaeto
Yurusarenai kotonaraba naosara moeagaruno
Dakiyosete hoshii tashikamete hoshii
Machigai nado naindato omowasete
Kiss wo shite nurikaete hoshii
Miwakuno tokini yoishire oborete itaino
Sokubaku shite motto hitsuyouto shite
Itoshiinara shuuchakuwo misetsukete
"Okashii" noga tamaranaku sukini naru
Ikeru tokomade ikeba iiyo
Mayoikonda kokoro nara kantanni tokete yuku
Yasashisa nante kanjiru himanado nai kuraini
Kurikaeshitano wa ano yume janakute
Magiremo nai genjitsuno watashitachi
Furetekara modorenaito shiru sorede iino…
Dareyorimo taisetsuna anata
Yoakega kuruto fuande naite shimau watashini
"Daijoubu" to sasayaita anatamo naite itano?
Dakiyosete hoshii tashikamete hoshii
Machigai nado naindato omowasete
Kiss wo shite nurikaete hoshii
Miwakuno tokini yoishire oboretai
Hikiyosete Magnet no youni
Tatoe itsuka hanaretemo meguriau
Fureteite modorenakute ii
Sorede iino dareyorimo taisetsuna anata