Luca Luccini

Info
Title

Kaminari no Shugosha
DreamLight

StageName
Gender
male
Age

21 (Beginning)
24~25 (2YL)

Status
Alive
Date of Birth
April 1
Famiglia
Vongola Famiglia
Generation
XI
Weapons/Items
Flames
Lightning
Family
Arina Luccini (Twin Sister)
Story Debut
Target 2
About
Luca Luccini is Nozomi's Guardian of Lightning and he is Arina's twin. He has long ash blonde hair and green eyes. His parents died killed by some mafia men and their grandfather couldn't take care of them because too old. A couple just married could only take care of Luca and he grew up in that family, until his step-parents divorced and he stayed with his father, who'll became very austere and educating him to a military career even if Luca didn't like to fight. When he was a military, he helps people more than fight and one day he was contacted by his sister and he could ask a dismissal to go to Namimori, in Japan.
Luca is the older in the group but he isn't very mature. He really likes women, when he sees a woman he always tries to win her heart but he fails because he tries to attract them in strange ways. He totally loves videogames and he is always playing some new games in his bedroom. His dream is to have a lively life. He loves to speak with the others and to know everything about everyone. Even if he was a military he doesn't like to fight, so he can easily say he doesn't want to fight and run away to do something else or just helping with barriers and something like that.
He hasn't delicacy even if he is very sensible. He hates losing, if something doesn't go well for him, he starts to complain. When he calls Nozomi, he calls her Juuichidaime that means Eleventh. He loves his sister.
Vongola Family
He thinks the tenth Guardian of Lightning is cool and he is a little rightened by the others members of the tenth generation.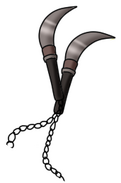 Luca's weapon is a long
chain
with two small scythes placed at the end of the chain. He can use the chain as a conductor for electricity to create protective barriers or to attack the enemy and strike them. He swings the chain to hit enemies with scythes, which may cut off limbs or sticks to the skin.
He created this weapon after playing a videogame he though it was interesting.
Trivia
When he see a pretty girl, he always followe her and try to seduce her. He says he has a sort of look-for-cute-chick radar.
The game he usually plays is called "Legend of Flaming Heroes".
His perfect animal is the armadillo.