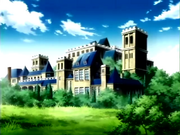 In Italy there are many places where many families live. There is also the Vongola Head Quarters, also known as Vongola Manor.
Vongola HQ Appearance
The Vongola HQ is in Sicily, it is a building who's several meters high and it stretches for miles, it is divided into different areas and they look more like palaces built next to each other in the middle of a huge forest.
In this place live the current Vongola Boss, his guardians and their families and the staff.
Info
This is where Vongola no Uta takes place.
The Vongola HQ appeared for the first time when the Vongola 11th group went there in the Target 25 of the 1st Arc, when Nozomi ask to her father to train them.
Nearby there are the schools attended by Arina and Nozomi and the apartment where Arina lived alone, when she was 14, economically supported by Vongola Decimo.
Click here for a list of people who live here.