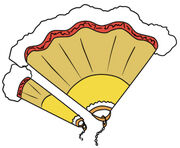 Two simple golden fans used by
Diamante
. She wraps them with the flame of the sky and use them attacking from close or throwing them as shuriken. They are very sharp and can cut through even the hardest material.
Because she's elegant and snob, they are the perfect weapon for her.
She used them to defeat Haname in Clover Arc.